These MREs Are Not Your Grandpa's Combat Rations.®
UPDATES SEPTEMBER 28th, 2023:
MKA-001 ready-to-ship cases are now out of stock.
Pre-Orders are available for our January 2024 production run.
Pre-Order Now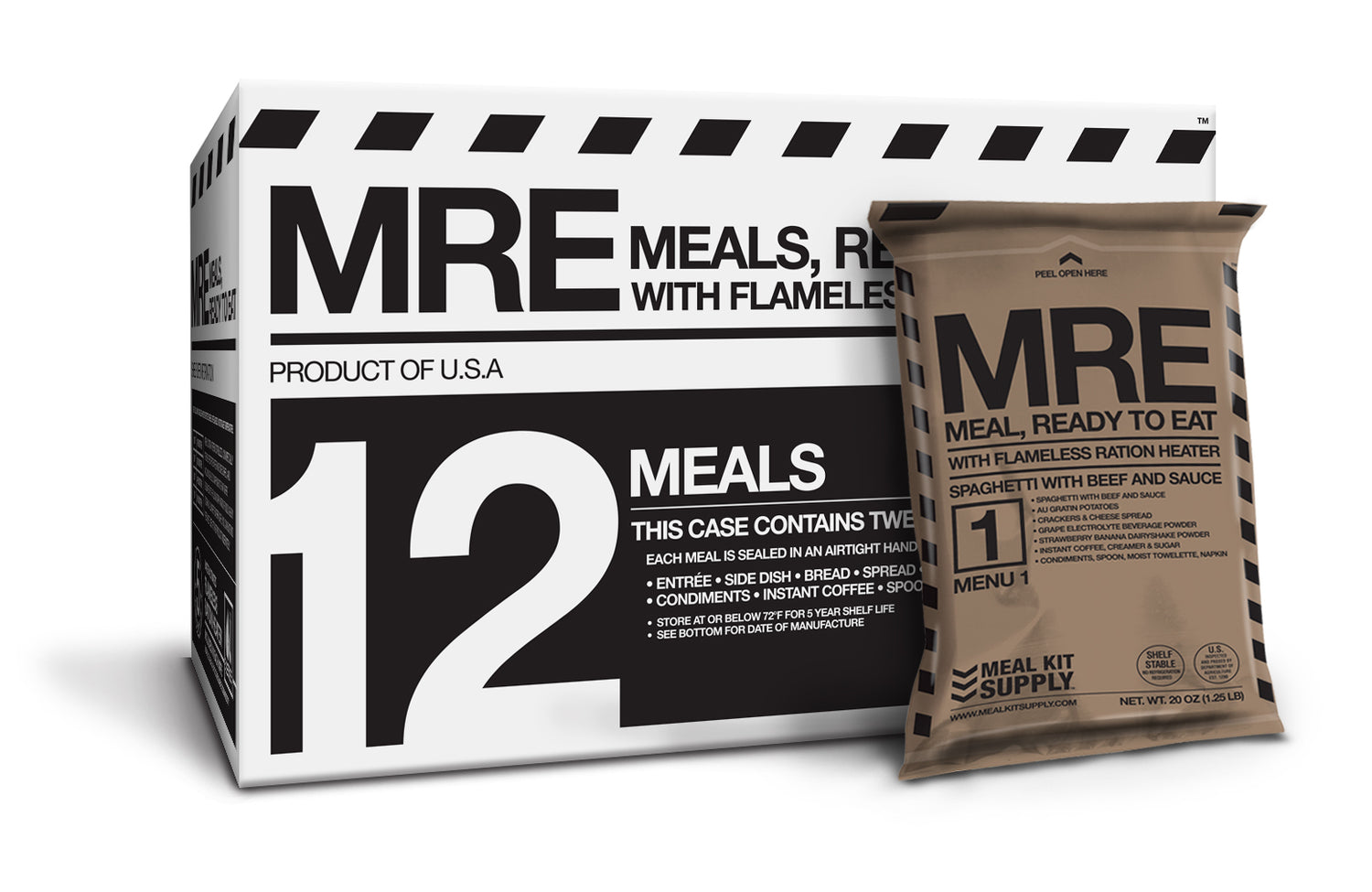 "There are a lot of civilian MRE companies out there. I can only recommend one brand and that is Meal Kit Supply. For whatever that's worth. Stock up accordingly."
- Steve1989MREInfo (MRE YouTuber w/ 1M+ Subscribers)
Watch Steve1989MREInfo's Review
Buy Factory-Fresh MREs
Our MREs are not the ancient military rations you heard stories about as a kid. Meal Kit Supply MREs (Meals, Ready to Eat) are not your grandpa's combat rations-they're tougher, they last longer, and they taste a heck of a lot better. Each 1,100-1,200 calorie MRE consists of a three-course meal of America's favorite comfort food, with entrees like Beef Ravioli, Chili, Spaghetti, and Meatballs, as well as side dishes like Fried Rice and Potatoes Au Gratin.
Unlike many MRE and 19FD-01-IRAT (Rations, Initial Deployment) retailers, we offer four breakfast meals in every case of 12 MREs. Some breakfast entrees include Pork Sausage Patty and Apple Maple Oatmeal, with sides and desserts like Poptarts, Strawberry-Banana Milkshakes, Pound Cake, and Hashbrowns with Bacon.
Meal Kit Supply's factory-fresh MREs have the widest variety of food items commercially available because we know that even in an emergency you've got taste buds. Each MRE includes the following food items:

Entree
Side Dish
Bread with Spread (Cheese, Peanut Butter, or Jelly)
Dessert
Electrolyte Cold Drink Mix
Condiments (some menus even contain hot sauce!)
We assembled our MREs-which contain 100 percent U.S. military MRE food components-with you in mind. When emergency strikes, you're not going to have the time or resources to generate boiling water, or even track down a utensil. That's why we include a flameless ration heater, spoon, and napkin in every MRE: so you can have a hot meal any time, any where, without a stove or boiling water. And the water you use to trigger the flameless ration heater doesn't even have to be clean: it could come from a puddle or lake.
Regular price

$179.99 USD

Regular price

$199.99 USD

Sale price

$179.99 USD

Unit price

per